Event Details
Going Beyond Pink: Talking about breast cancer, early detection, support & hope
Categories:

Breast Cancer Awareness, Diagnostic Imaging, Healthy Lifestyle Talk, Women's Health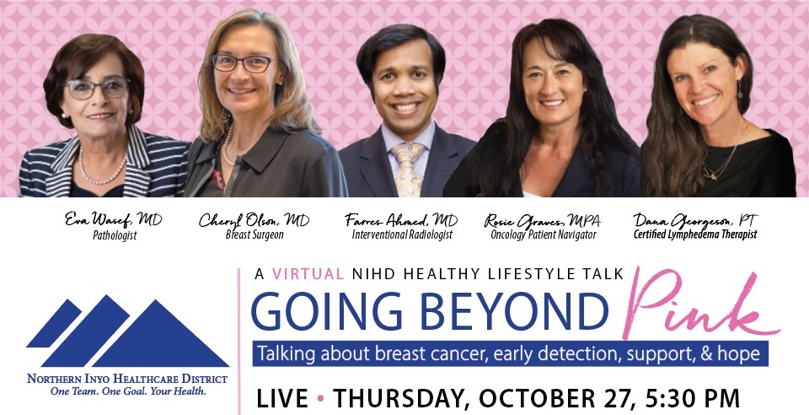 About This Event
Event Type:Educational Event
Details:
Northern Inyo Healthcare District invites you to attend this Thursday's Healthy Lifestyle Talk – Going beyond Pink: Talking about breast cancer, early detection, support & hope. This virtual presentation is set to start at 5:30 p.m. on Thursday, Oct. 27.
The talk brings together five of NIHD's valued experts to talk about the importance of early detection when it comes to breast cancer. Hosted by Oncology Patient Navigator Rosie Graves, this session will feature NIHD Breast Surgeon Dr. Cheryl Olson, Interventional Radiologist Dr. Farres Ahmed, NIHD Pathologist Dr. Eva Wasef, and NIHD Certified Lymphedema Therapist Dana Georgeson.
Statistics show one in eight women will develop breast cancer in her lifetime. According to the American Cancer Society, when breast cancer is detected early, and is in the localized stage, the five-year relative survival rate is 99 percent. However, if cancer is not detected until it has a chance to spread, the survival rate declines to 29 percent.
Early detection includes doing monthly breast self-exams, and scheduling regular clinical breast exams and mammograms.
This educational presentation is part of NIHD's ongoing Healthy Lifestyle Talk Series. The talks are open to public and free of charge. NIHD will present the talk in two formats:
Broadcast LIVE on the Northern Inyo Healthcare District YouTube channel. Please note that to participate in the Q&A session on YouTube, you will need to be logged into that service. If you do not have a YouTube or Gmail account, it would be best to log into Zoom.
Presented live on Zoom:

Join Zoom Meeting

Meeting ID: 844 0825 6726
Passcode: 268300
One tap mobile

+16694449171,,84408256726#,,,,*268300# US
+17193594580,,84408256726#,,,,*268300# US

Dial by your location

877 853 5257 US Toll-free
888 475 4499 US Toll-free
Meeting ID: 844 0825 6726
Passcode: 268300
Registration
Price: Free
Registration Instructions: No Registration Required