Rehabilitation Services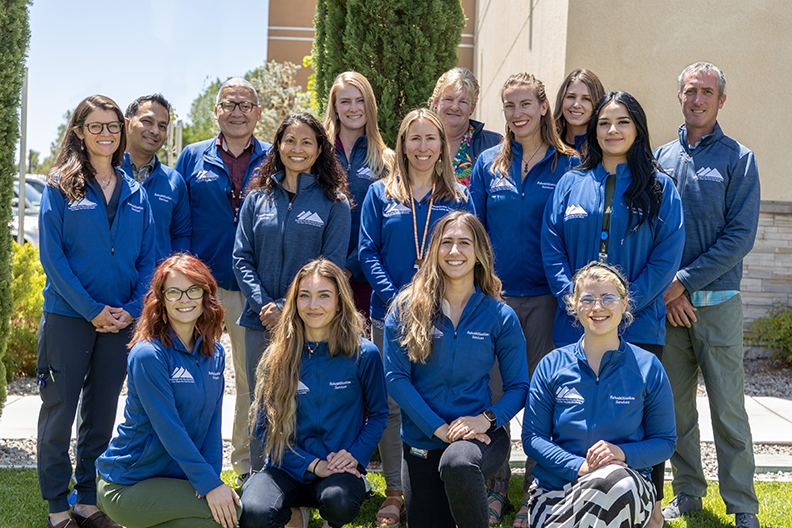 Flexibility is an advantage in many aspects of life. That's why we believe in having a diverse and multifaceted team of therapists that can adapt to the ever-changing needs of our patients. Our licensed and certified therapists are specialists in their fields, giving us the flexibility to provide a wide range of therapeutic care to patients of all ages, from birth through the elderly years.
Highly Specialized Care Right Here At Home
Rehabilitation involves so much more than just Physical Therapy. We also have expertise in Occupational Therapy and Speech Therapy. Within each of these three areas we can provide highly specialized care and treatment to achieve very specific rehabilitation goals.
We are the only facility in the Eastern Sierra to offer therapy for Lymphedema with a specially trained and certified Lymphedema therapists on our team.
Other specialized services include therapies for:
Sports injuries
Therapy following surgeries
Female and male pelvic health
Swallowing, cognitive, and communication disorders
Vertigo and concussions
Pediatrics including speech/language delays and motor development
Orthopedics
And so much more
Because kids need a special kind of care we created a program specifically designed to treat our pediatric patients. We provide one-on-one therapy sessions with children that parents have an option to view from the waiting room via video streaming on a dedicated iPad. This lets us build a relationship with the child that fosters trust in both the child and the parent. We have dedicated pediatric therapists that have excellent knowledge and training in working with children.
Care, Collaboration & Community
Our team has a very proactive approach to solving problems for our patients and our community at large. As therapists, we have 'a trained eye' for how people move, work, and play in their environments. We can help to reduce possible injury and minimize future problems that can occur with poor or limited capacity due to patient conditions. By providing guidance during a patient's rehabilitation process, both under our direct supervision or when alone, patients have greater autonomy and the potential for full recovery and a better quality of life.
We provide therapy to outpatients in our facility and at hospital bedsides by working cooperatively with physicians, nursing staff, diagnostic imaging, environmental services, nutritional services, information technology and all hospital units – doing whatever is needed to achieve total patient care.
In association with many community organizations such as schools, home health agencies, the local nursing home and assisted living facility, and local sports teams; we can make sure that all members of our community get the care they need when they need it.
Our strength lies in our ability to be flexible and adaptable. We are constantly striving to improve and upgrade our services to provide specialized therapies that most small, rural communities such as ours do not usually have. We also know enough to know when it's time to refer a patient to more specialized care.
Our Rehabilitation Services department offers services for adults at our Rehabilitation Office and for children at our Pediatric Rehabilitation Office. A primary care physician referral is needed to schedule an appointment. For further questions, please contact our office at 760-873-2122.
Meet Our Staff
Physical Therapy
Occupational Therapy
Speech Language Pathology