TeamNIHD gives from the heart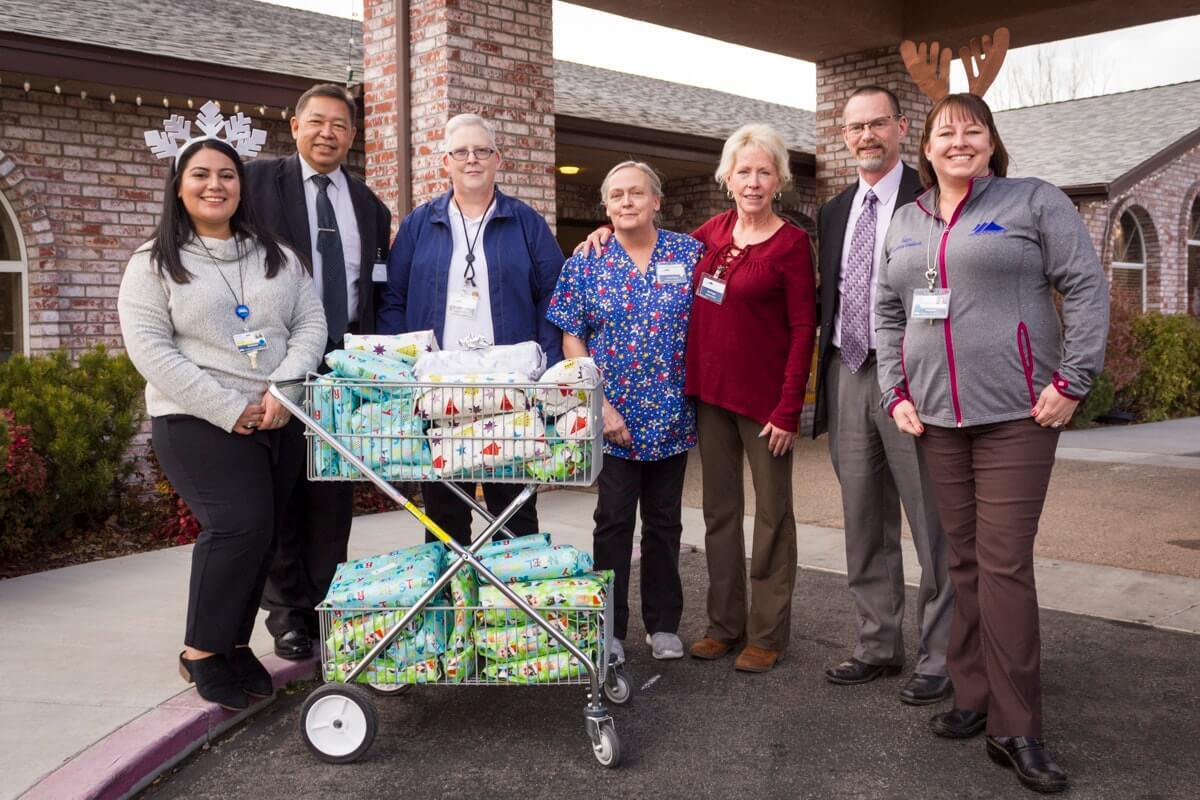 NIHD employees also gathered 39 gifts for the residents of Bishop Care Center. Shown with the cart of gifts, which the NIHD team pushed to neighboring BCC's front door, are from left to right, NIHD's Michelle Garcia, BCC Administrator Jay Caramba, BCC Director of Nursing Sue Uchendu, BCC Activities Assistant Cora Heeg, BCC Activities Director Ida Enger, NIHD CEO Dr. Kevin S. Flanigan, and NIHD's Kristen Bernasconi. Photo by Barbara Laughon/Northern Inyo Healthcare District
Northern Inyo Healthcare District's employees ended the holiday giving season on a big note by providing gifts for The IMACA Wish Tree and to the residents of the Bishop Care Center.
According to NIHD's Michelle Garcia, Team NIHD fulfilled the wishes for 47 local children. The Wish Tree Program, coordinated by the Inyo-Mono Advocates for Community Action (IMACA), provides clothing, toys, and other gifts to children in the community who may not receive Christmas gifts otherwise.
Team NIHD members including Garcia, Kristen Bernasconi, Oscar Lopez-Esparza, Scott Hooker, and NIHD Chief Executive Officer Kevin S. Flanigan, MD MBA, loaded the colorful and plentiful gifts into one of NIHD's CareShuttle vans and transported the gifts to IMACA's wrapping and staging area at the Tri-County Fairgrounds. IMACA then distributed the gifts in time for Christmas.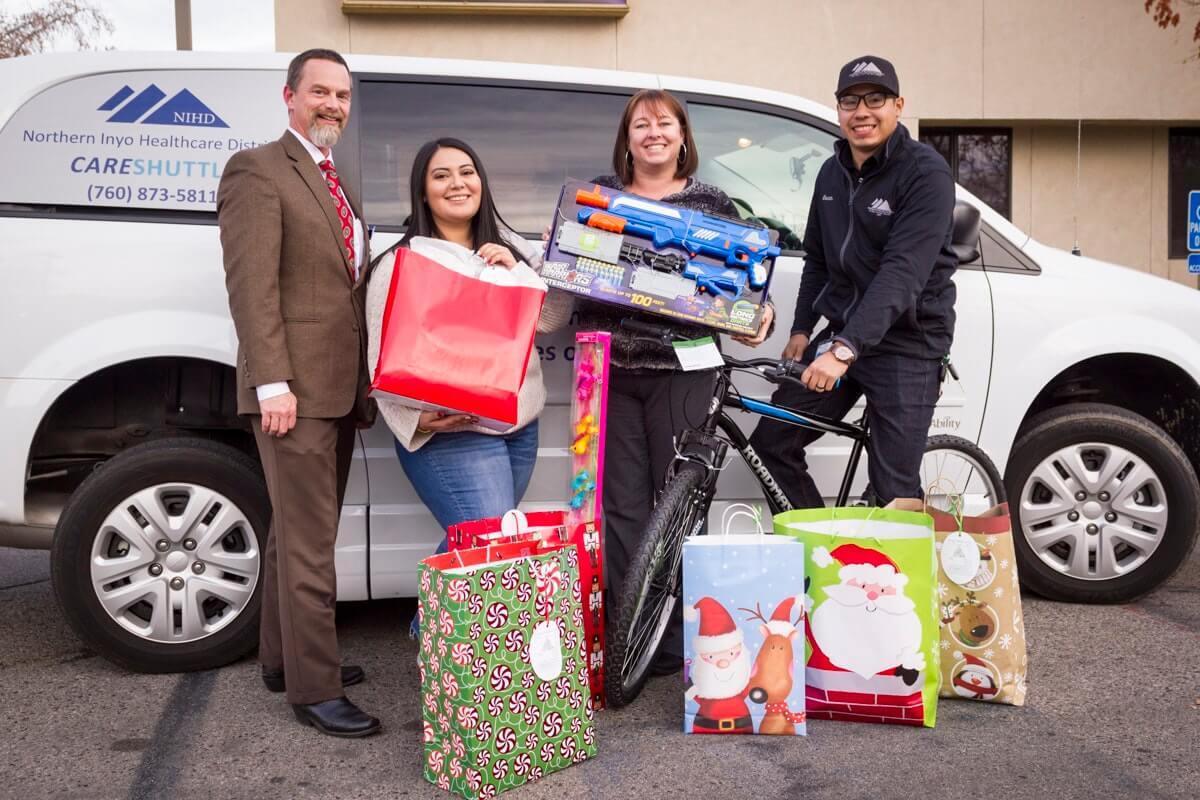 The employees of Northern Inyo Healthcare District made a difference in the Christmas holiday of 47 local children with their annual holiday gift drive for IMACA's Wish Tree program. Shown here with a sampling of the gifts provided are, from left, NIHD CEO Dr. Kevin S. Flanigan, Michelle Garcia, Kristen Bernasconi and Oscar Lopez-Esparza. Photo by Barbara Laughon/Northern Inyo Healthcare District
"Compassion is one of core values the NIHD Team holds dear," Garcia said. "The fact that we can carry it over to programs like The Wish Tree, and the food drives, and the other community efforts we participate in makes the holidays that much warmer and brighter."
Team NIHD also delivered 39 gifts to the residents of the Bishop Care Center. These gifts – mostly of warm clothing – were also donated by NIHD employees.
As the care center is so close to the NIHD campus, Garcia, Bernasconi and Dr. Flanigan literally walked a cart full of gifts to BCC's front door. There, they were met by BCC Administrator Jay Caramba, Director of Nursing Sue Uchendu, Activities Director Ida Enger, and Activities Assistant Cora Heeg. The gifts were distributed to residents in time for Christmas.
During the presentation of the holiday gifts, Dr. Flanigan commented that he could not be more impressed by the compassion and generosity of Team NIHD.
These two gift drives conclude Team NIHD's 2018 holiday efforts which also include a food drive that benefitted the food pantries at IMACA and The Salvation Army, the donation of more than 100 frozen turkeys donated by the staff to local service agencies including Inyo-Mono Association for the Handicapped, and the donation of more than $1,100 to the Eastern Sierra Cancer Alliance.