NIHD begins screening patients, visitors, staff at entry
(Español) --Mandatory COVID-19 screenings began Monday, August 3 at Northern Inyo Healthcare District. This means all non-emergent patients, as well as visitors and staff, must undergo a quick temperature check and answer some health questions in order to enter any NIHD facility.
It is suggested patients arrive a bit early while staff adjusts to this new routine. Please remember that face masks are required on the NIHD campus.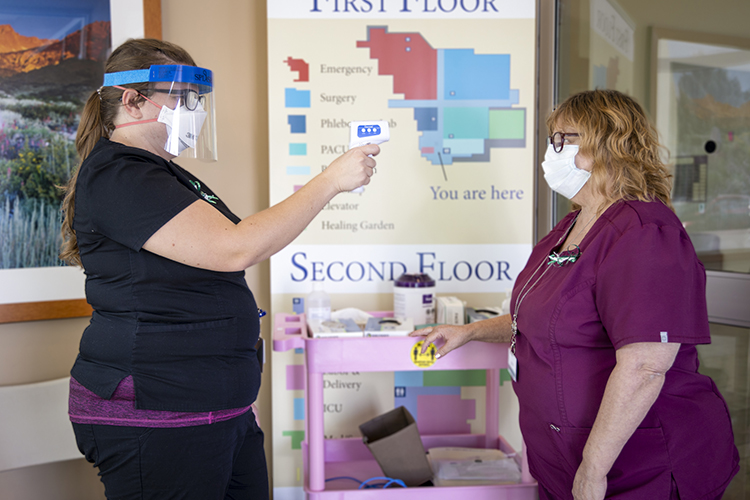 The screening model is simple. To access the hospital or Administrative building during the day (6 a.m.–6 p.m.), use the hospital's Main Lobby. To access the hospital in the evening after 6 p.m., use the Emergency Department entrance. Screening occurs as you enter.
All ancillary and clinic patients may proceed to their expected destination. Screening occurs as you enter each clinic or service. The clinics and ancillary services include:
Rural Health Clinic
Rural Health Women's Clinic
Internal Medicine
Pediatrics & Allergies
Orthopedics
Specialty Clinic
Diagnostic Imaging
Rehabilitation Services
Screening includes a quick no-contact temperature reading and questions about COVID-19 symptoms. COVID-19 symptoms include:
Fever higher than 100 degrees
Sore throat
Cough
Shortness of breath
Fatigue
Nausea
Vomiting
Diarrhea
Unexplained muscle aches or headaches
Loss of smell or taste
Nasal congestion not related to seasonal allergies
Questions about possible COVID exposures or diagnoses also will be asked. Those permitted to enter, receive a sticker to show clearance.
For those not approved to enter, staff will refer them back to their primary care provider. Providers may arrange for testing at their office if needed. Also, the Rural Health Clinic offers drive-in testing. For details, call (760) 873-2849.
For records requests, please call Medical Records, (760) 873-2152, in advance. Doing so gives staff time to process the request and arrange for safe release of the records.
All NIHD staff will also undergo daily screening when arriving for work. A dated sticker on their identification badge shows they passed screening that day.
These screenings help NIHD align with newer federal and state guidelines. Kelli Davis, NIHD's Interim Chief Executive Officer, said the District remains highly committed to protecting the health and safety of its patients, their families, and the healthcare professionals and staff.
"Our communities are our priority," Davis said. "We encourage everyone wear face masks and practice social distancing. We remind them to their wash hands with soap and water for at least 20 seconds several times throughout the day. If we approach this together, we can get through this together.
Questions? Please call our Admissions Team at (760) 873-5811.