NIHD, Adventist Health gain community support for Telehealth Services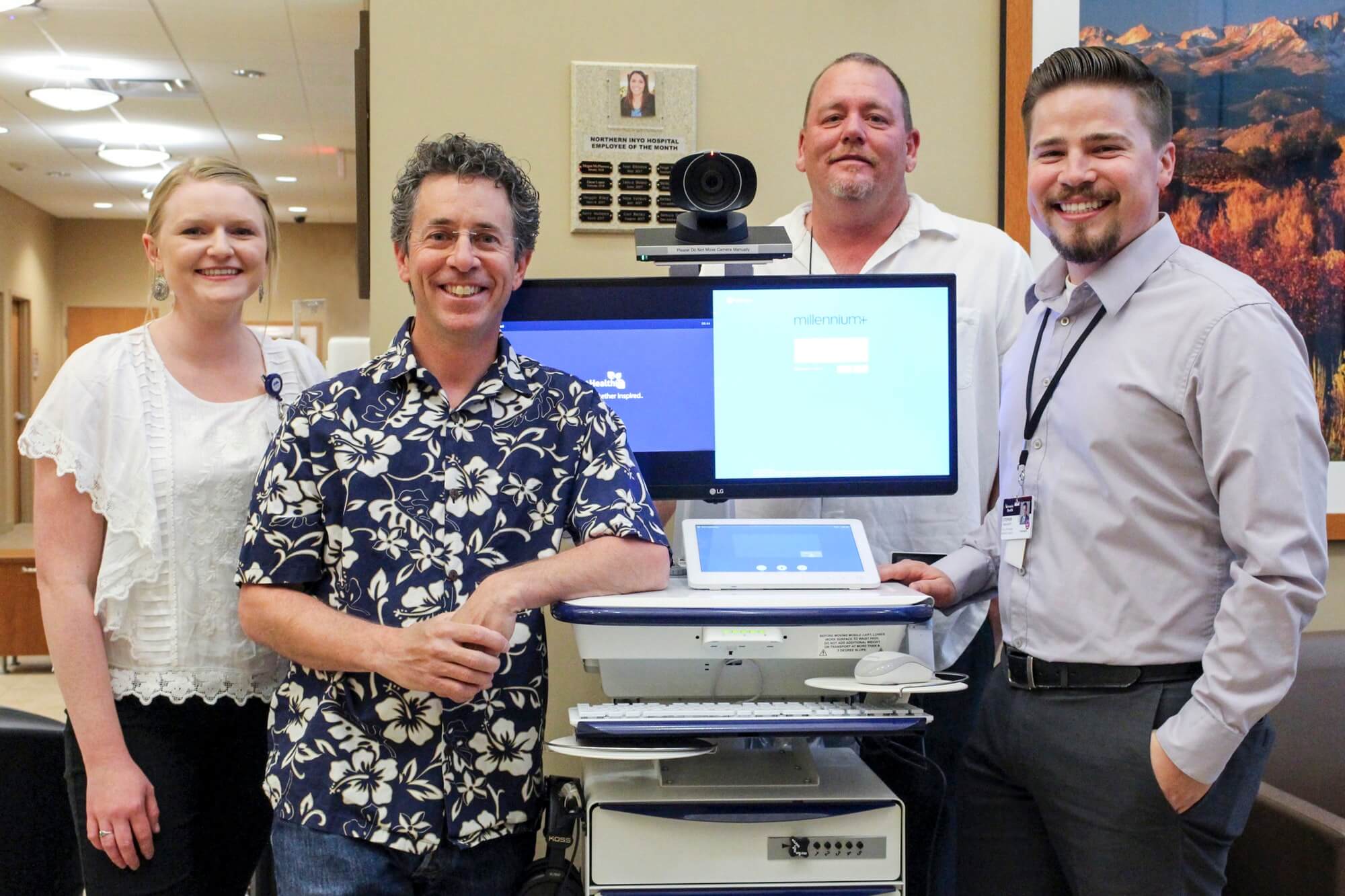 Healthcare in rural America is a tightrope walk for leaders charged with moving hospitals, clinics, and care centers forward. They balance quality patient care with growing government regulation; advancing technology with shrinking budgets, and honor the past while making visionary plans for the future.
However, Northern Inyo Healthcare District leaders learned something about best-laid plans with Tuesday night's introduction of the new Telehealth partnership between the District and Adventist Health.
"The community was way ahead of us on this one," said NIHD's Chief Executive Officer Kevin S. Flanigan, MD MBA, Wednesday morning. "They told us in our 2013 Community Health Needs Assessment that they wanted Telehealth, that they would embrace Telehealth. However, it was not easy to put together. It took us five years to get the right partnership in place, to get the right equipment purchased, to get our Rural Health Clinic team trained and ready. All that time, the community patiently waited, and Tuesday night they rewarded us by welcoming Telehealth to the District."
Seventy people came to hear Dr. Flanigan, Dr. Stacey Brown, Medical Assistant and Telehealth Coordinator Jessica Nichols, and Adventist Health's Stephen Hoekendorf demonstrate how the system works, talk about what services are offered at this time, and what the future holds for Telehealth. Many of the participants came armed with internet research and queries that resulted in a lively 30-minute question-and-answer session.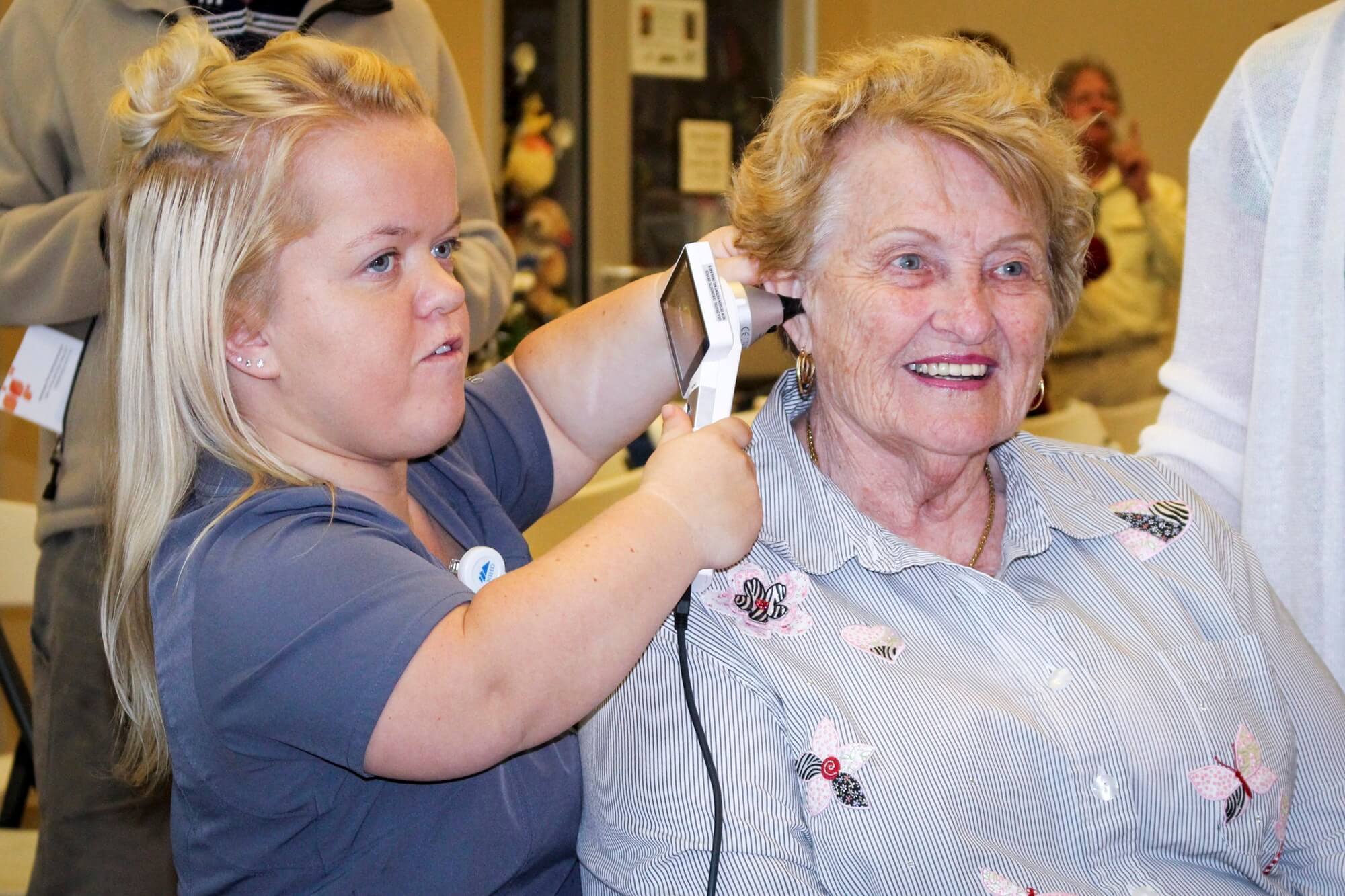 Telehealth uses advanced video conferencing technology, giving local patients the opportunity to connect with Adventist Health's medical specialists, all without having to travel for hundreds of miles. Specialty services offered through telehealth currently include Cardiology (heart), Endocrinology (diabetes, thyroid), and Rheumatology (joint and autoimmune issues). In the future, other services will be added.
After Dr. Flanigan's introduction, Dr. Brown led the presentation, guiding the audience through a live program demonstration. Dr. Brown played the role of the patient while Dr. Elizabeth Najera-Maslow, Adventist Health's Virtual Care Medical Director, directed Nichols and Hoekendorf in the use of exam equipment from more than 300 miles away. High-resolution photos of a paper cut on Hoekendorf's hand were taken and securely transmitted to Dr. Najera-Maslow's office in seconds. Dr. Najera-Maslow was visible on the system's video screen throughout the demonstration and could communicate with just about anyone in the audience, zooming the camera in and out on individuals as she answered questions.
A self-proclaimed technology "geek," Dr. Brown said he had dreamed of a program like this for several years and was thrilled to be able to participate in its development. "We wanted to develop a seamless patient experience so that when you come to the clinic as a Telehealth patient, it is no different than when you come as an RHC patient. You check in the same way; you are led to an exam room by the same people; your tests and labs are handled the same way. The only difference is instead of seeing a doctor in the room; you see a Telehealth professional on the video screen."
Medical Assistant Nichols assured the public that patients did not have to operate the computer system at all; rather she or other Telehealth presenters would be in the exam room with patients to assist them.
Patients wishing to see these specialists via Telehealth will need a referral from their primary care provider. So far, 17 patients have engaged with Adventist Health's specialists. Referrals made within the next few days will be seen within the next week.
Dr. Flanigan said the Telehealth program would not be possible without the support of the Northern Inyo Hospital Foundation and its generous purchase of the $35,000 Telehealth computer system. "We would like to thank the Foundation Board for its tireless fundraising efforts over the course of a year," he said. "Their hard work, coupled with the generosity of the community, makes programs like this a reality."
For more information about Telehealth at the RHC, call (760) 873-2849. For more information about the NIH Foundation, call (760) 873-2166.