NIHD employees demonstrate the art of giving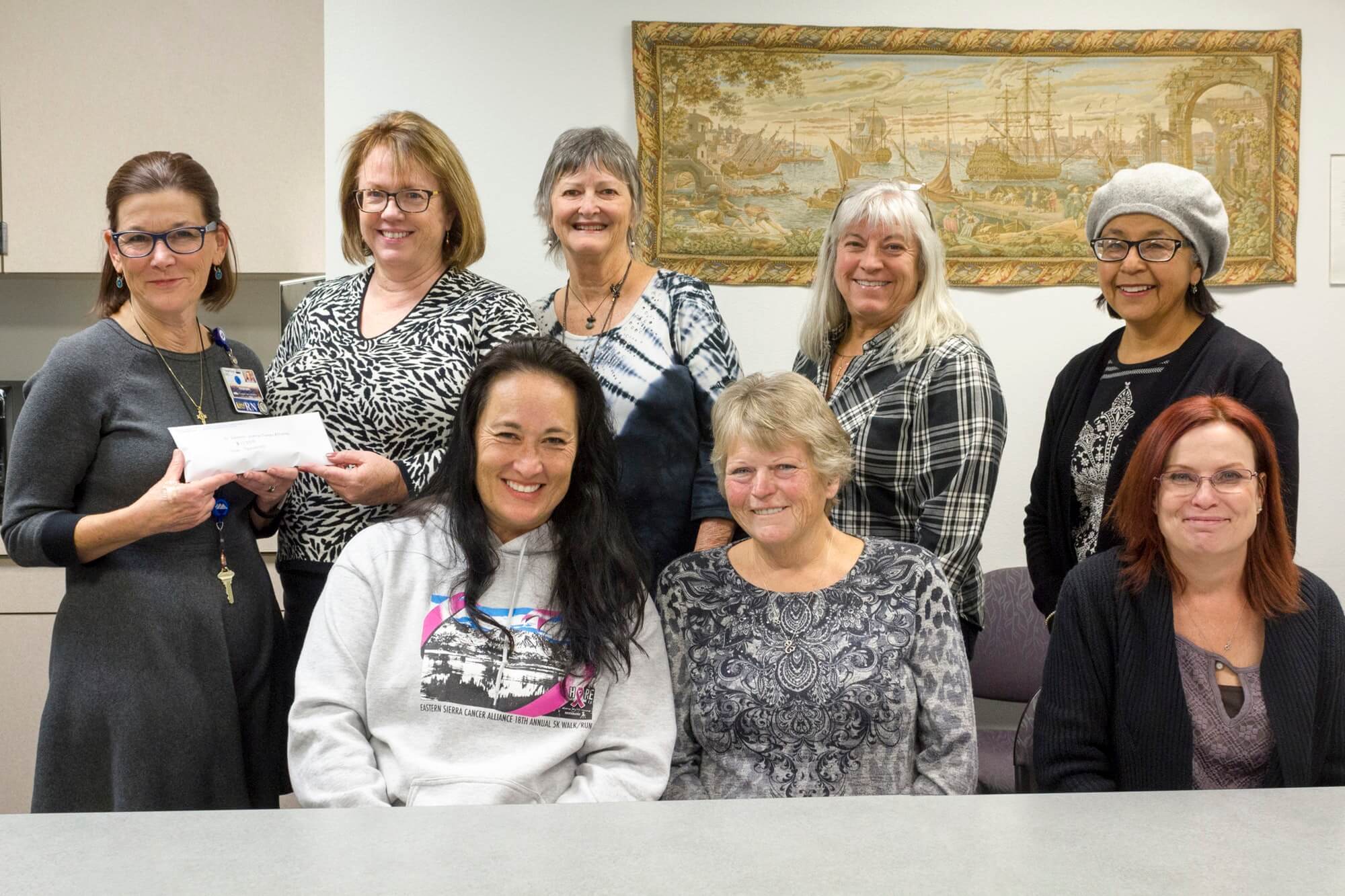 The employees of Northern Inyo Healthcare District are busy this holiday season as they team up to participate in many of the community's annual gift and food drives. The charitable efforts are in keeping with NIHD's Mission, "Improving our communities, one life at a time. One team. One goal. Your health."
Team NIHD kicked off the holiday season in the days before Thanksgiving by awarding $1,132 to the Eastern Sierra Cancer Alliance. The funds were raised through the sale of pink t-shirts, designed and produced by Mountain Apparel, as part of the Healthcare District's Breast Cancer Awareness Month efforts. Two styles of shirts were offered – one specifically spotlighting NIHD's popular Moonlight Mammograms program, and the other focusing on the importance of breast cancer screening.
Eastern Sierra Cancer Alliance provides educational, emotional, and financial support to Inyo and Mono County residents with cancer. Coming off another successful October 5K run and walk that raised about $25,000, ESCA continues to fundraise throughout the year. Since 2010 ESCA has provided $259,000 in assistance to those battling cancer, and the volunteer group reports an increase in assistance requests in the last 10 years. It's projected that request for aid will reach $48,000 this year.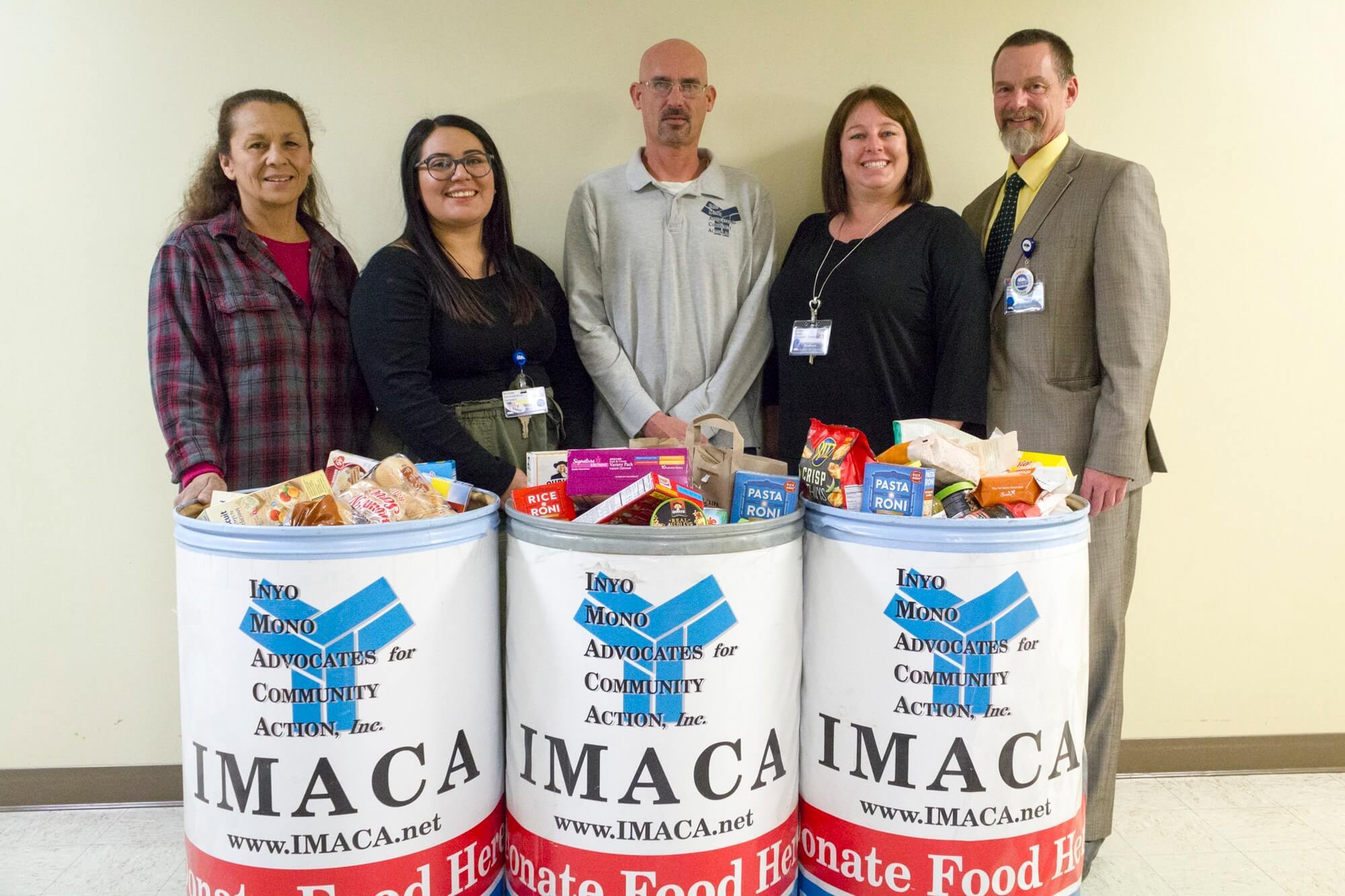 The food pantries at The Salvation Army and the Inyo-Mono Advocates for Community Action (IMACA) will be fuller headed into Christmas thanks to the employees of the Northern Inyo Healthcare District. Shown with the three overflowing barrels of food donations gathered at NIHD are, from left, Jeanne Thomas, Assistant Food Specialist for IMACA; Michelle Garcia, NIHD's Administrative Assistant to Human Resources; Richard Laux, Food Specialist for IMACA; Kristen Bernasconi, NIHD Compliance Analyst; and, Kevin S. Flanigan, MD MBA, NIHD's Chief Executive Officer. Photo by Barbara Laughon/Northern Inyo Healthcare District
Team NIHD also donated more than 100 frozen turkeys to local service agencies including The Salvation Army, Inyo-Mono Advocates for Community Action (IMACA), and the Inyo-Mono Association for the Handicapped. The turkeys are given to the employees by the Healthcare District, and with many staff members working the holidays or traveling to be with family, these employees choose to donate their turkeys to community groups.
The Healthcare District employees also held a food drive to help stock the food pantries at The Salvation Army and IMACA. In all, Team NIHD gathered three overflowing barrels of non-perishable food items. According to Community Relations Coordinator Cheryl Underhill, the donations from the District will help support local families who may be struggling to put food on the table in the post-holiday season.
Next up for Team NIHD: The Wish Tree program. Initially founded by The Inyo Register staff in 1996, the IMACA Wish Tree program provides clothing, toys and other gifts to children in the community who may not receive Christmas gifts otherwise. "Wish bulbs" will soon be distributed to participating businesses and agencies. Watch for the Wish Tree advertisements in The Inyo Register to see how you can participate in this holiday season.