NIHD lights up for Colorectal Cancer Awareness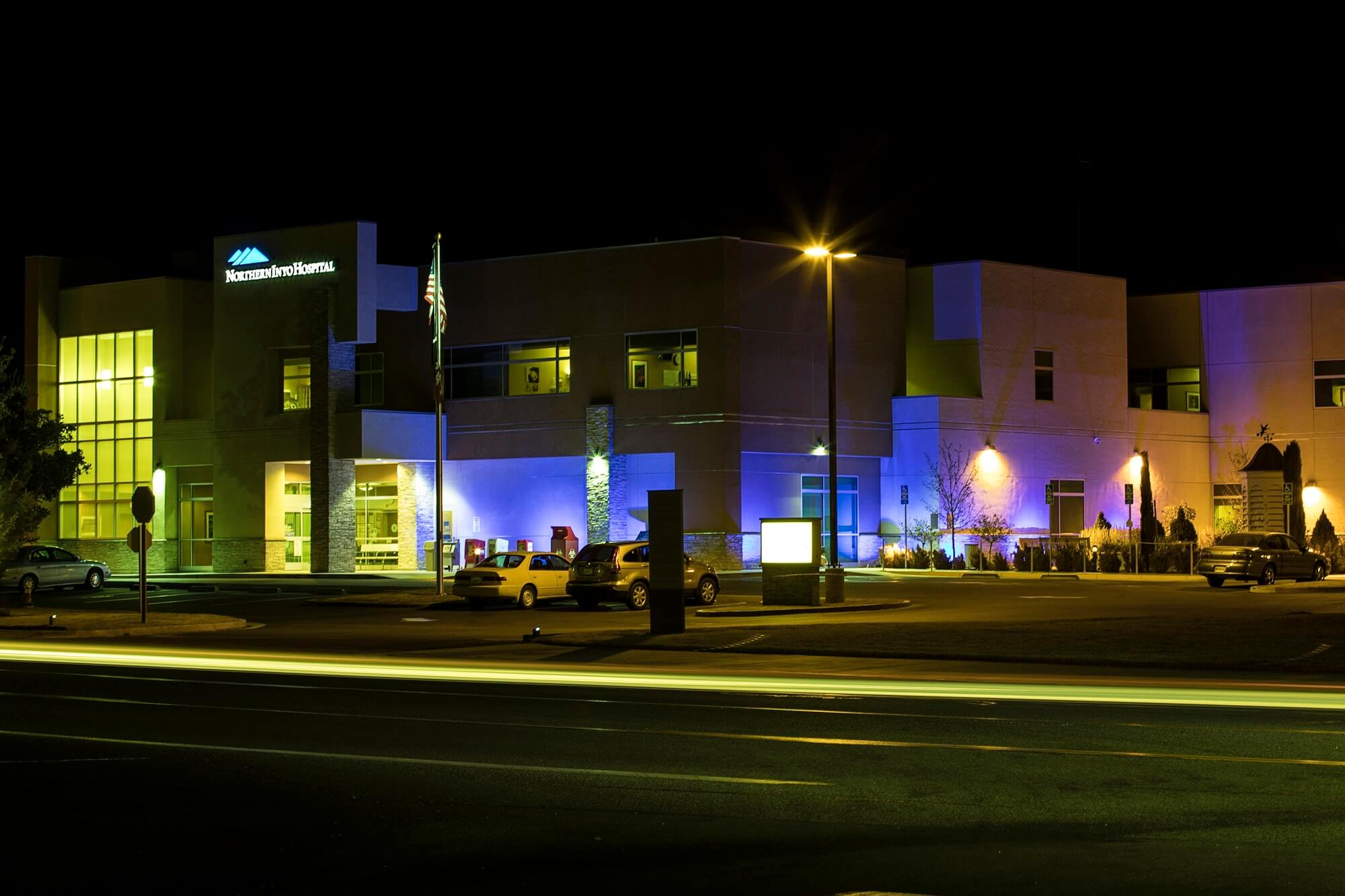 March is Colorectal Cancer Awareness Month, and Northern Inyo Healthcare District is joining healthcare providers across the nation in boosting local awareness with a series of events.
NIHD's Chief Executive Officer, Kevin S. Flanigan MD MBA, points out that unlike most cancers, colorectal cancer is preventable with proper screening. "I know no one wants to talk about their bottom; however a colonoscopy is a procedure that can find pre-cancer polyps. If the doctor finds and removes these polyps, then they are gone and will not grow into cancers," Dr. Flanigan said. "So, make your bottom your top priority and go talk to your healthcare provider and see if a colonoscopy is recommended for you."
The awareness effort kicked off Friday as NIHD employees participate in Dress in Blue Day. This nationally-recognized awareness day gives allies in the fight against colon cancer the chance to raise awareness by donning their best shades of blue. NIHD employees also used this opportunity to help raise funds for the Eastern Sierra Cancer Alliance.
Other awareness events at NIHD will include:
A March 8 Healthy Lifestyle Talk by Dr. Allison Robinson, NIHD's colorectal surgeon, will provide an overall view of colorectal cancer including screening, diagnosis, and treatment options. The talk, titled "Colorectal Cancer: Preventable, Treatable and Beatable," begins at 6:30 p.m. at NIHD's Birch Street Annex, 2957 Birch St., Bishop. A question and answer period will follow. All NIHD Healthy Lifestyle Talks are free and open to the public.
On Tuesdays, March 13 and 20, Dr. Allison Robinson and Dr. Robbin Cromer-Tyler will extend their office hours to hold screening consultations on a walk-in basis. Patients can learn if he or she meets the guidelines for a screening colonoscopy. The sessions are designed for those 50 and over, or those with a family history of colon cancer, or those wanting to take a proactive stance with their health.
Plans are underway to host the first-ever Blue Ribbon Run & Walk on Saturday, March 24 in Bishop. This 3K, 5K and 10K fun run and walk will also benefit the Eastern Sierra Cancer Alliance. With a starting line at Brown's Town campground, runners and walkers will loop around Schober, Barlow, and Sunland, depending on their chosen distance. NIHD will host two early registration events on Wednesday, March 14 and 21, 11-1 in front of NIHD's Administration Building. The run is a community partnership between NIHD, Eastern Sierra Cancer Alliance, and other community sponsors. For more information, or if you would like to volunteer to help, contact Cheryl Underhill at (760) 873-2153.
According to the Colorectal Cancer Alliance, more than 135,000 people will be diagnosed nationally this year with this highly preventable disease. Northern Inyo Healthcare District encourages everyone 50 or older, or those with a family history of colorectal cancer, to talk with their doctor about screening options.