Robot-assisted surgery gives chance for community collaboration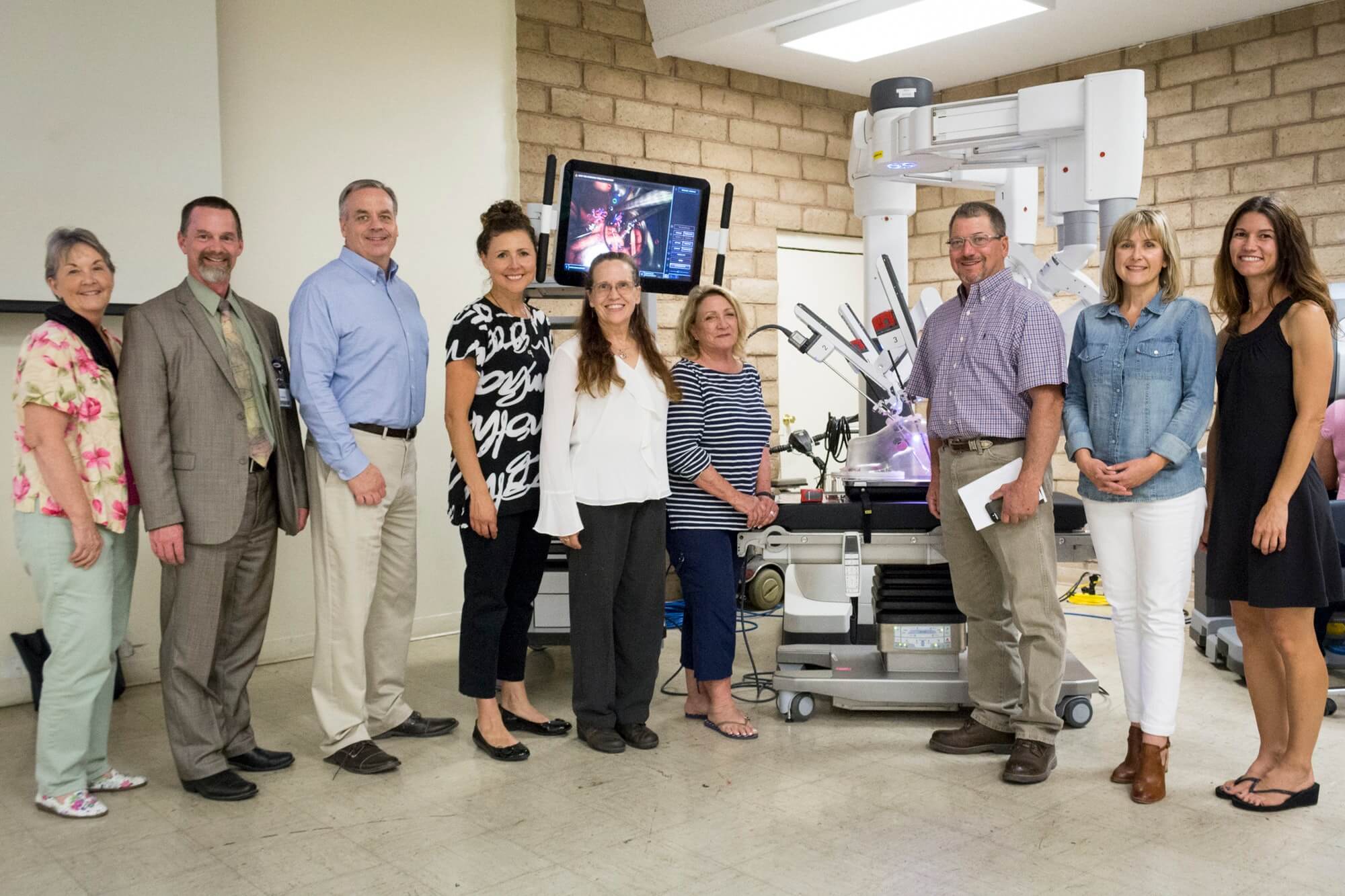 Be it in Lone Pine or Tonopah, local education regarding robot-assisted surgery edged forward last week as more than 50 people took their turn in the surgeon's seat, operating a mobile model of the da Vinci Surgical System.
For Lone Pine, this collaborative effort between Intuitive Surgical, makers of the da Vinci Surgical System, and both Northern and Southern Inyo Healthcare Districts brought a rare opportunity to see the advancements made in surgical technology.
With the evening broken up into a student session and a public presentation, the Open House at Lone Pine's Statham Hall drew more than 34 participants. Twelve Lone Pine students vied to obtain the highest scores on the surgical skills test built into the traveling model. When one would gain a tenth of a point, the others would queue up to garner the next highest score. At the end of the evening, three siblings – Zachary, Maliah, and Dominic Houle – held among the highest scores. Maliah Houle said she hopes to pursue studies in medicine after high school.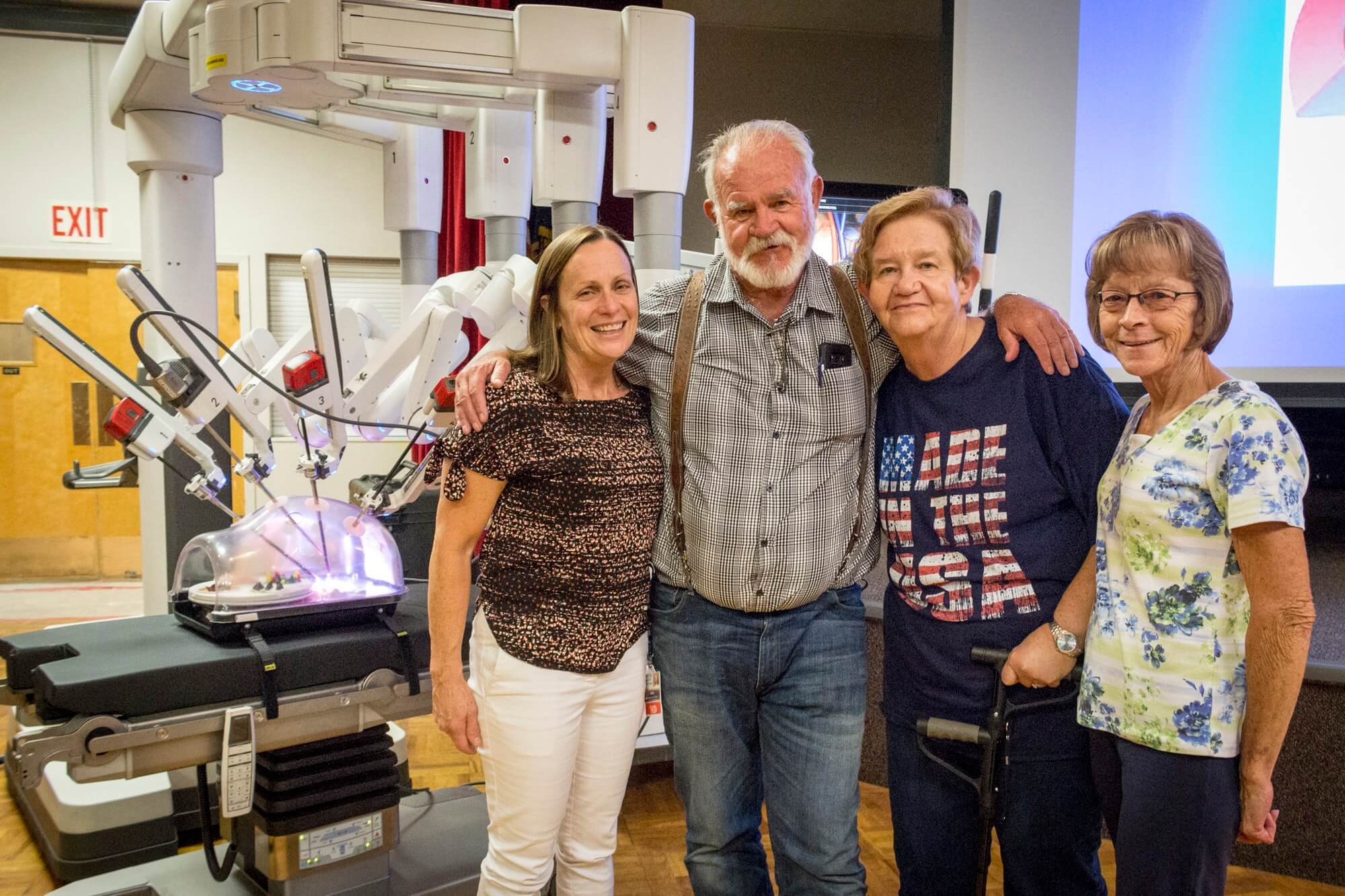 Colorectal surgeon Dr. Allison Robinson greeted Tonopah residents Bill Robertson, Linda Fitch, and Garnet Robertson, who came out to see the da Vinci Surgical System when it was displayed at the Tonopah Convention Center last week. Photo by Barbara Laughon/Northern Inyo Healthcare District
Following a presentation by one of NIHD's gynecological surgeons Dr. Jeanine Arndal, residents found themselves hesitantly sitting down, gingerly taking the controls, and then seemingly having the time of their lives. By the end of the evening, 22 residents, including four members of the Southern Inyo Healthcare District's Board of Directors, had given robot-assisted surgery model a try.
It was a scene reminiscent of the previous night in Tonopah. While Tonopah's turnout was smaller – 19 in all -- it was mighty with residents coming armed with questions for NIHD's colorectal surgeon Dr. Allison Robinson. The lone Tonopah student who attend the student session – nine-year-old Tristan Fitch – undoubtedly had much to share with his classmates after spending an hour with Dr. Robinson and Intuitive Surgical's Gina Steinhoff, who showed him how today's minimally invasive surgery works.
The events, framed as educational evenings, not only allowed rural residents to gain a look into the ever-advancing world of robot-assisted surgery; they also gave the communities, long-bound by geography, a chance to work closer together.
Isaiah Wilcox, 11, of Lone Pine, smiles after testing his skills on the da Vinci Surgical System model as his mom, Laurel Taylor, a teacher at Lone Pine Unified School District, lends her support. Photo by Barbara Laughon/Northern Inyo Healthcare District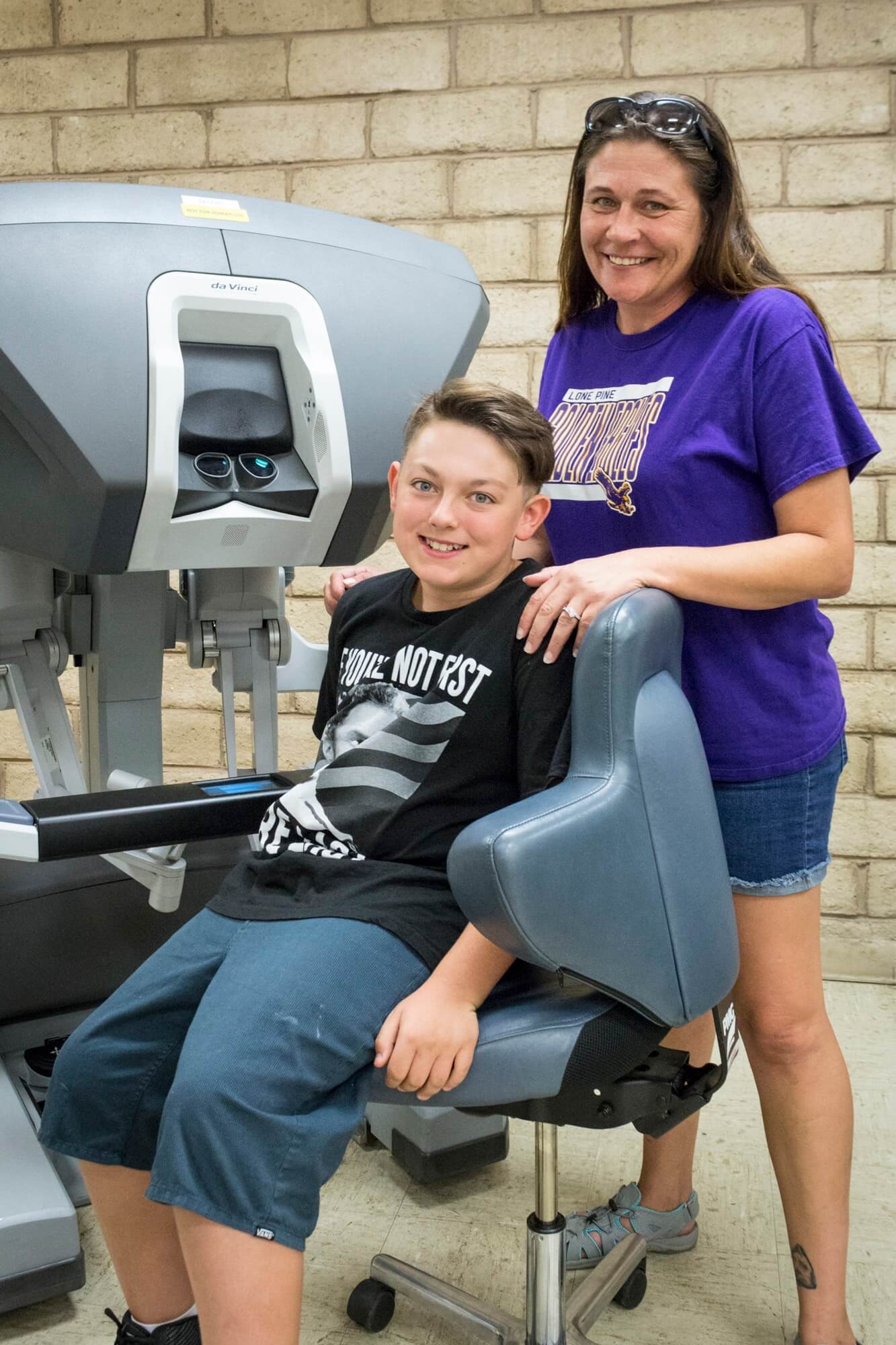 "It's vital that we take these opportunities to work together to enhance the greater good of our region," said Dr. Kevin S. Flanigan, MD MBA, the Chief Executive Officer of Northern Inyo Healthcare District. "We are all in this together, and if we intend to move forward and serve the residents who count on us, then common ground for common growth is where we need to start."
Dr. Flanigan went on to thank Intuitive Surgical Services, its representative Gina Steinhoff, as well as the Town of Tonopah, Southern Inyo Healthcare District and its CEO Brian Cotter, and surgeons Dr. Robinson and Dr. Arndal for the efforts in putting on the presentations.
The open houses stemmed from the popularity of two similar events held in Bishop during the last two years after NIHD acquired its da Vinci Surgical System. The opportunities for such open houses are rare since Intuitive has only a few robots designated for travel and display. Steinhoff noted that the model shown in Lone Pine and Tonopah is the newest in the da Vinci line, the Xi, and that it is the only model that travels for demonstration throughout the West.
Now considered the standard of care, robotic surgical systems have been successfully used in more than five million procedures around the world. In an almost two-year run at NIH, the da Vinci robot has aided in more than 155 local surgeries. NIHD currently has three da Vinci-trained surgeons – Dr. Robinson, Dr. Arndal, and Dr. Robbin Cromer-Tyler.
Dr. Flanigan concluded by noting he believes that when people live in such an isolated area as the Eastern Sierra, they receive the most wonderful, personal, and high-quality healthcare. Now with this surgical system, they can also receive advanced technology healthcare locally.