City Council proclaims May as Northern Inyo Healthcare District Month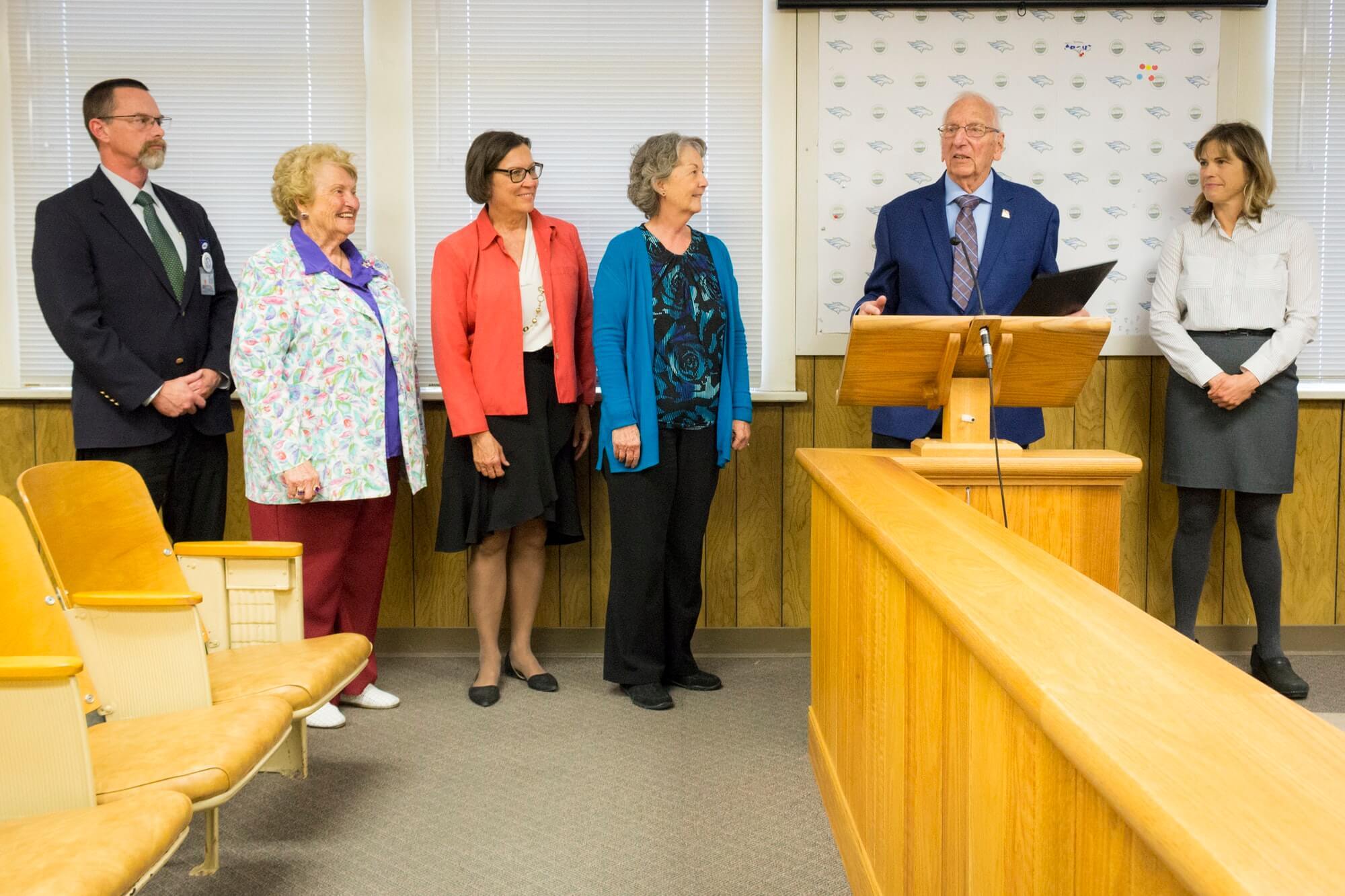 The month of May is many things to many people – a time to honor Moms, welcome a late spring, and, of course, remember those who made the ultimate sacrifice for our country. It is also a time to recognize the dedicated contributions of nurses and all healthcare employees nationwide, and as such, the Bishop City Council has proclaimed May 2018 as Northern Inyo Healthcare District Month.
The city's proclamation credits the local citizens who in 1944 recognized the need for an acute care hospital and laid the groundwork for today's District. Now with more than seven decades of continuous healthcare service, the council cited NIHD as an integral part of the business community, being the only local health care system offering inpatient and outpatient services to Bishop and the surrounding communities.
Bishop Mayor Karen Schwartz reads the inscription on the City of Bishop tile presented to Pete Watercott as he looks on. Photo by Barbara Laughon/Northern Inyo Healthcare District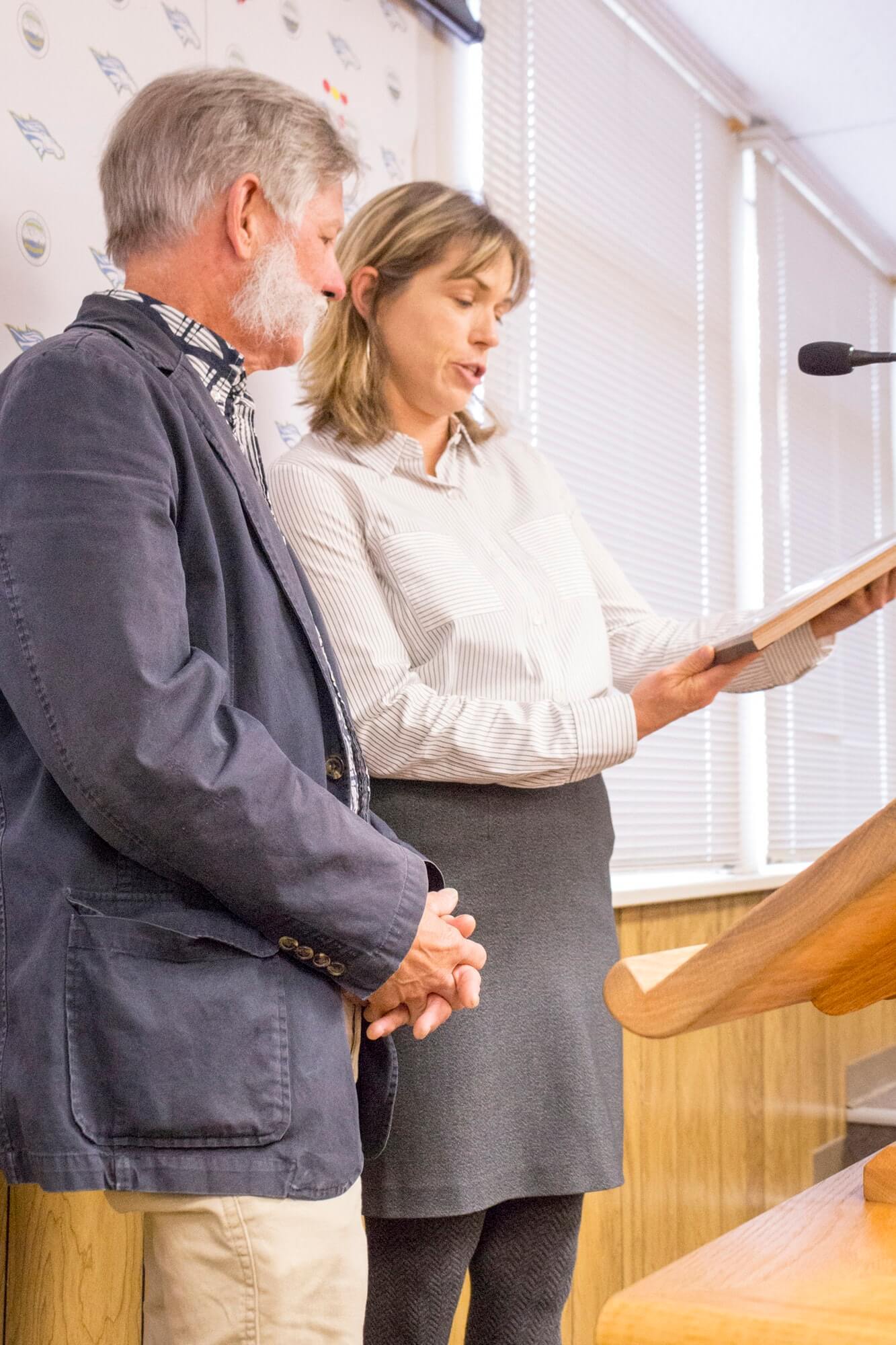 Mayor Karen Schwartz presented the proclamation to Dr. John Ungersma, president of the NIHD Board of Directors, during the May 14 City Council meeting. "Thank you for giving our city first class, top-notch, state-of-the-art healthcare," Mayor Schwartz said. "It's a huge asset to have in a rural community."
In thanking the council for the honor, Dr. Ungersma made a play on Reno, Nevada's nickname as the Biggest Little City in the World. "I think of Bishop as the Best Little City in the World, and all the people at Northern Inyo Healthcare District are citizens of this community, and we do our best to bring you state-of-the-art healthcare," he said.
Joining Dr. Ungersma in accepting the proclamation were District board members MC Hubbard, Mary Mae Kilpatrick and Jean Turner, and NIHD Chief Executive Officer Kevin S. Flanigan, MD MBA. Looking on from the audience were NIHD's Chief Officers Kelli Huntsinger (Operations), Tracy Aspel (Nursing), and John Tremble (Financial).
Founded in 1946, Northern Inyo Healthcare District features a 25-bed critical access hospital, a 24-hour emergency department, a primary care rural health clinic, a diagnostic imaging center, and clinics specializing in women's health, orthopedics, internal medicine, pediatrics, general surgery, colorectal surgery, breast cancer surgery and urology.
Recent additions to NIHD's offerings include robotic surgery, a telehealth program giving residents access to specialty doctors, and same-day care services. In the last year alone, the District saw a 16 percent increase in service use.
The Bishop City Council also recognized Pete Watercott with a city tile for his 20 years of service to NIHD's Board of Directors. Watercott, who resigned from the board in March, said he was honored to be a small part of a great team.
"Change is incremental," Watercott said. "It's like when you go out hiking in the mountains, you've got to spend some time out there on the trail before you are rewarded with that really big view – one that you would never get to see if you were just in the parking lot at the trailhead. With the support of the community, I was given the opportunity to see that big view."
Watercott thanked all of NIHD's staff, past and present, for providing the community with the best possible patient care. "I'm very proud of the progress the District has made," he said. "The District is poised to play an even more important role in the future, and I will be very excited to see it unfold."