NIH Auxiliary's Boutique offers great gifts plus opportunity to boost community goodwill
Category: NIHD News
Posted On:
Written By:

Barbara Laughon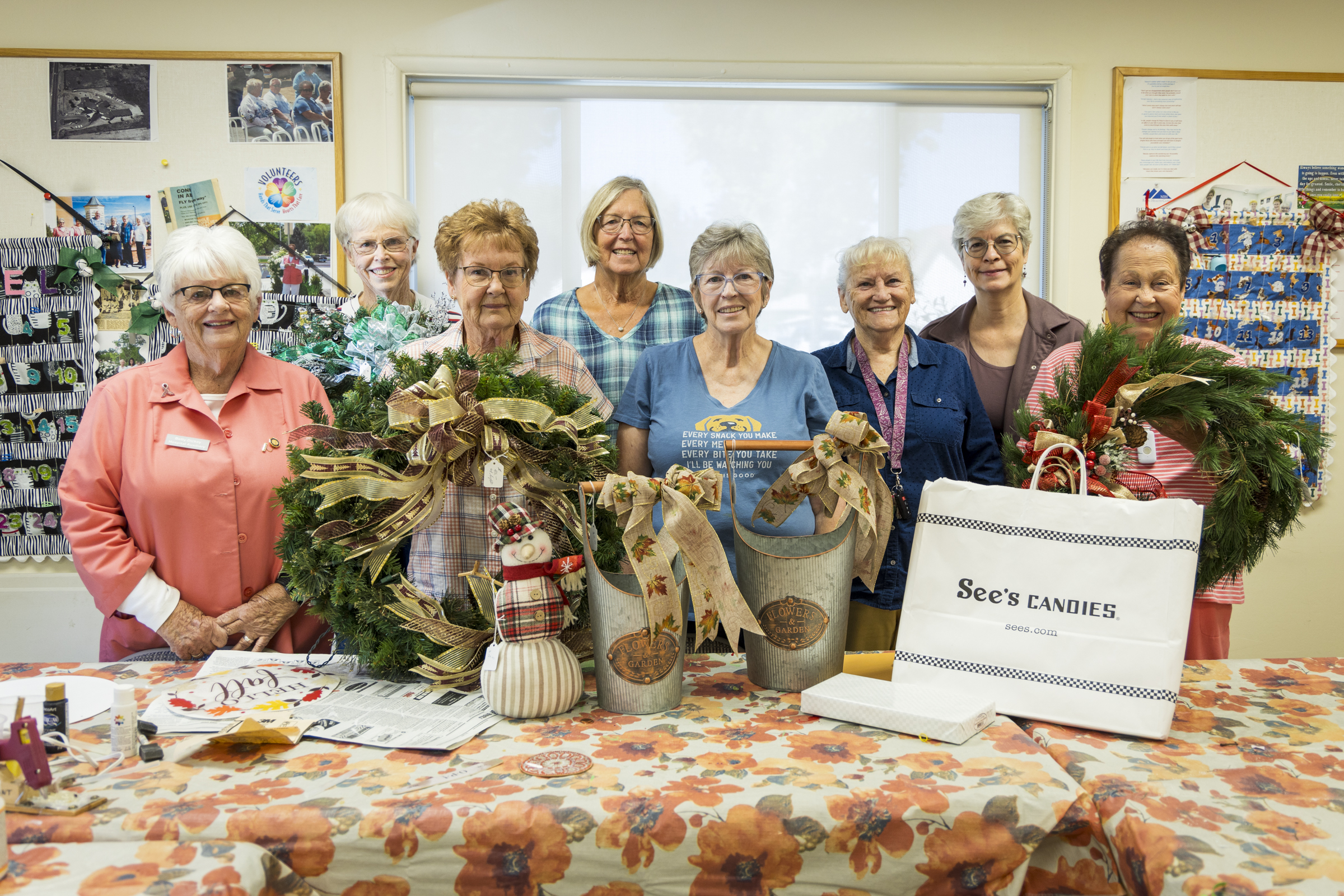 Northern Inyo Hospital's Auxiliary is ready for Saturday's Annual Boutique, which helps the group purchase needed medical equipment not always covered by NIHD's budget. From left are members Betty Dickey, Pat Hawley, Sharon Moore, Linda Dionne, Karen Benson, Marti Witters, Laile Giansetto, and Judy Fratella. Photo by Barbara Laughon/Northern Inyo Healthcare District
One glance around the Northern Inyo Hospital Auxiliary's meeting room tells the story. Boxes of handcrafted items packed and tagged for the big day. Welcoming décor waiting to bring holiday cheer to its temporary home. Most importantly, a group of dedicated volunteers stands ready for the culmination of months of hard work, all in the name of community goodwill.
Yes, the NIH Auxiliary is all set to host its much-anticipated Annual Boutique on Saturday, Nov. 4, from 8 a.m. to 1 p.m. at the Northern Inyo Healthcare District's Birch Street Annex. The Annex is located at 2357 Birch Street, near the Jill Kinmont Boothe School in the Manor Market area.
This annual boutique is a beloved tradition in the Bishop community, drawing residents and visitors alike for a day of delightful discoveries. The event will take place in the NIHD Board of Directors Meeting Room, steps away from the Auxiliary's room, where members have spent countless hours creating handcrafted treasures in anticipation of this special occasion.
The NIH Auxiliary has been organizing the boutique for several years. This event is not just an opportunity for shoppers to find one-of-a-kind gifts and treasures. It also serves as a crucial fundraiser that helps the Auxiliary purchase equipment the healthcare district's budget may not always cover. To date, the group has provided almost $775,000 in equipment through its boutique, gift shop, and other fundraising efforts.
Auxiliary Treasurer Sharon Moore reports that this year the group wants to purchase two Phillips Intellivue X3 cardiopulmonary monitors for NIH's Perinatal Department.
NIH is the only local labor and delivery facility serving Inyo and Mono counties. Last year, NIH's team delivered 210 babies after assuming additional deliveries when Mammoth Hospital ceased its perinatal services. NIH is on track to see the same number of births again by the end of this year.
The cost of the two monitors is $15,000, according to Moore. "The addition of the two monitors positions the department with three infant warmers, each with its own monitor," Moore explains. "Should a resuscitation be necessary, we are told the monitors allow for quickly accessible and easily viewable information for the physicians and nurses to rely on. I can't imagine a more worthy purchase for the Auxiliary to make at this time."
The highlight of the Boutique is undoubtedly the handcrafted items meticulously created by the talented Auxiliary members. Attendees can expect to find unique items, including fall and holiday decorations, home decor, and much more.
For those with a sweet tooth, the sale of See's Candy will surely delight. Visitors can stock up on their favorite treats or pick up sweet gifts for friends and family.
The bake sale will feature an assortment of homemade goodies, from cookies and brownies to pies and cakes. Whether in the mood for a quick snack or looking for a dessert to impress guests, the Auxiliary offers a variety of options to satisfy every craving.
The event will also feature a drawing for cash prizes of $1,000, $300, and $200. Attendees can purchase tickets on-site for a chance to win, and the lucky winners can walk away with cash in hand, but rest assured, ticketholders do not have to be present to win.
Auxiliary President Judy Fratella notes the Auxiliary is always looking for new members to expand its service to the healthcare district. "Everyone thinks they have to be a crafter to join, but that's not true," Fratella said. "We need people with all talents to help us reach our goals. The more hands contributing to the collective goal, the better."
For further information about the Northern Inyo Hospital Auxiliary, do not hesitate to contact Auxiliary President Judy Fratella at (760) 873-4059 or Treasurer Sharon Moore at (760) 872-4198.