Coronavirus (COVID-19)
Northern Inyo Healthcare District is committed to the health and wellbeing of the Eastern Sierra community and we are working diligently to ensure the safety of patients, visitors, staff, and our overall community during these challenging times. We are collaborating with our local and national healthcare authorities to provide the highest level of care and we are following the strictest proven guidelines for cleanliness and safety. Our Hospital, Clinics, and other ancillary services are open and ready to help you with all of your healthcare needs.
---
Latest News:
Inyo County Mandates Face Coverings for
All Indoor Public Facilities Effective October 29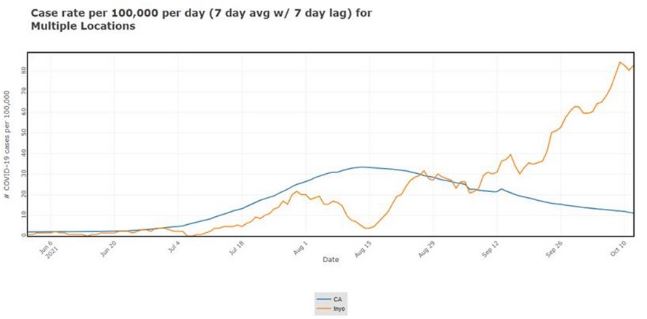 (County of Inyo, Oct. 26, 2021) -- Today the Inyo County Public Health Officer issued a Health Order requiring all individuals in the incorporated and unincorporated areas of the County of Inyo, regardless of vaccination status, to wear a face covering when they enter any indoor public facility. "Indoor facilities" include, but are not limited to, businesses, government agencies, houses of worship, and office buildings.
This Order was prompted by an exponential increase in Inyo County's case numbers in both the adult and pediatric population, resulting in the highest case rate in the State of California, 101.4 cases per 100,000 persons (7 day average, 7 day lag), and a test positivity rate of 20.1% as of October 25, 2021. Currently, approximately 65% of the eligible population in Inyo County is fully vaccinated against COVID-19, leaving almost one third of the vaccine-eligible population, and all children under the age of 12, more vulnerable to the COVID-19 virus. Local hospitals and skilled nursing facilities in Inyo County are experiencing an increase in COVID-19 inpatient cases during a time where staffing and capacity is strained.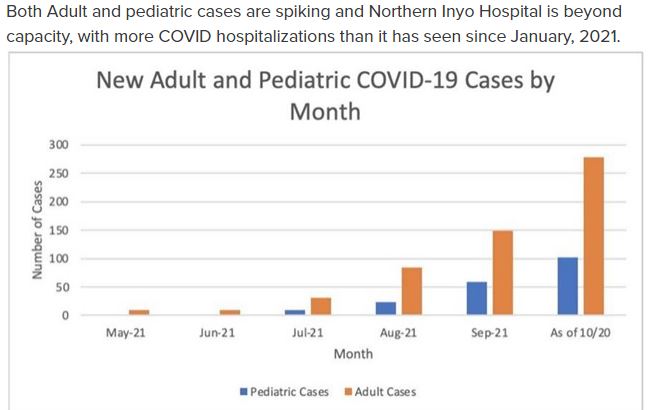 The following guidelines are meant to provide clarification for our Inyo County residents:
Implementation of the Order is required by 11:59 p.m. on October 29, 2021.
The purpose of the Order is to reduce risk of further impacting ICU capacity in Inyo County and to protect our vulnerable populations throughout Inyo County.
Individuals, businesses, venue operators, or hosts of public indoor settings must require all patrons to wear masks, for all indoor settings, regardless of their vaccination status, and post clearly visible and easy to read signage at all entry points to communicate the masking requirements for patrons.
A governmental entity, business owner, or facility operator should refuse admission or service to any customer or visitor who refuses to wear facial coverings.
The following individuals are exempt from wearing masks:

Persons younger than two years old. Very young children must not wear a mask because of the risk of suffocation;
Persons with a medical condition, mental health condition, or disability that prevents wearing a mask. This includes persons with a medical condition for who wearing a mask could obstruct breathing or who are unconscious, incapacitated, or otherwise unable to remove a mask without assistance;
Persons who are hearing impaired, or communicating with a person who is hearing impaired, where the ability to see the mouth is essential for communication;
Persons for whom wearing a mask would create a risk to the person related to their work, as determined by local, state, or federal regulators or workplace safety guidelines.

A "facial covering" must possess the following attributes:

Be a properly worn mask that completely covers the nose and mouth
Cloth masks should be made with two or more layers of a breathable fabric that is tightly woven (i.e., fabrics that do not let light pass through when held up to a light source)
Mask should be secured to the head with ties, ear loops, or elastic bands that go behind the head
Mask should fit snugly but comfortably against the side and bottom of the face
Mask should be a solid piece of material without slits, exhalation valves, or punctures
Recommendation: wear a medical mask (also called surgical mask or disposable face mask) when available and appropriately fit.
The Face Covering Order will remain in effect until rescinded, in writing, by the Inyo County Health Officer. COVID-19 community transmission within Inyo County will continue to be reviewed and assessed on an on-going basis in conjunction with availability and access to healthcare resources and capacity, case rates week-over-week, and vaccine coverage of the eligible population.
Charts courtesy County of Inyo Public Health
---
California Crisis Care Continuum Guidelines
Status Level as of 2/12/2021: GREEN
Northern Inyo Healthcare District Incident Command has adopted the California Crisis Care Continuum Guidelines accessible via the following link here as well as the Crisis Care Guidelines Pre-Implementation Checklist located here. This includes the utilization of the stages of the crisis care continuum indicated in the guidelines and in California Department Public Health All Facilities Letter 20-91, and shown below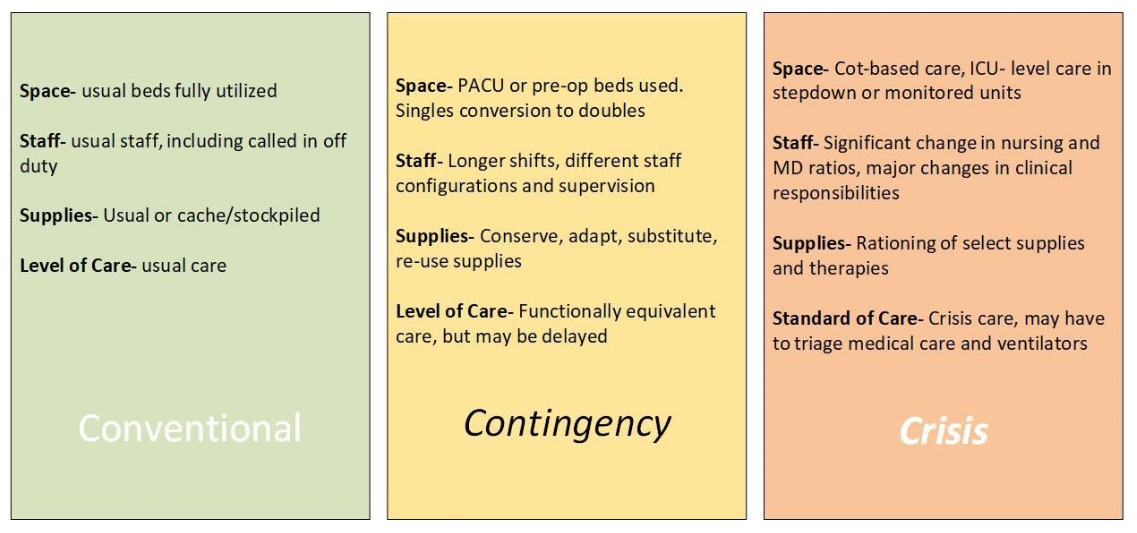 Northern Inyo Healthcare District Incident Command utilizes the crisis care continuum classifications (green/yellow/red) as both a communications and planning tool. The classifications allow us to communicate our status to our local authorities, and in turn, the public. In addition, the Northern Inyo Healthcare District Incident Command reviews current space, staffing, supplies, and level of care on a continual basis, at minimum once a week during Northern Inyo Healthcare District Incident Command meetings to ensure all members of are aware of the hospital's current crisis care continuum stage.
---
Current COVID-19 Testing Status
Regional Testing Totals as of 5/05/2021 at 5 p.m.
| County | Administered | Pending | Negatives | Positives | Resolved | Deaths | Hospitalizations |
| --- | --- | --- | --- | --- | --- | --- | --- |
| Inyo | 20,038 | 0 | 18,294 | 1,424 | 1,382 | 38 | *90 |
| Mono | n/r** | -- | n/r | 1,019** | n/a | 4 | n/a |
Regarding Administered Inyo County: Numbers Includes NIHD, SIHD, Toiyabe and Verily testing sites. Positives tests for those who are not full-time residents in Inyo County are not included in the Positive Case count. Total, pending, and negative test numbers include individuals tested more than once. Cases with pending results are monitored by medical staff ordering test; Inyo County Public Health monitors pending results identified as high probability individuals.
*Total number hospitalized for inpatient services in MedSurg, ICU, RCU, and Perinatal
** As of Nov 24th, the positive cases from the Mono County Mountain Warfare Training Center no longer count against Mono County's total case count.
---
Ages of NIHD & Inyo County Confirmed Cases
| Ages | NIHD | Inyo |
| --- | --- | --- |
| Ages 0-17: | 129 | 215 |
| Ages 18-49: | 334 | 659 |
| Ages 50-64: | 138 | 256 |
| Ages 65 and Up: | 122 | 228 |
| Unreported/Missing | 0 | 66 |
| TOTAL: | 723 | 1,424 |
---
Gender of NIHD & Inyo County Confirmed Cases
| Gender | NIHD | Inyo |
| --- | --- | --- |
| Male | 334 | 649 |
| Female | 389 | 728 |
| Gender ID Missing | 0 | 47 |
| TOTAL: | 723 | 1,424 |