Coronavirus (COVID-19)
Northern Inyo Healthcare District is committed to the health and wellbeing of the Eastern Sierra community and we are working diligently to ensure the safety of patients, visitors, staff, and our overall community during these challenging times. We are collaborating with our local and national healthcare authorities to provide the highest level of care and we are following the strictest proven guidelines for cleanliness and safety. Our Hospital, Clinics, and other ancillary services are open and ready to help you with all of your healthcare needs.
---
California Crisis Care Continuum Guidelines
Status Level as of 2/12/2021: GREEN
Northern Inyo Healthcare District Incident Command has adopted the California Crisis Care Continuum Guidelines accessible via the following link here as well as the Crisis Care Guidelines Pre-Implementation Checklist located here. This includes the utilization of the stages of the crisis care continuum indicated in the guidelines and in California Department Public Health All Facilities Letter 20-91, and shown below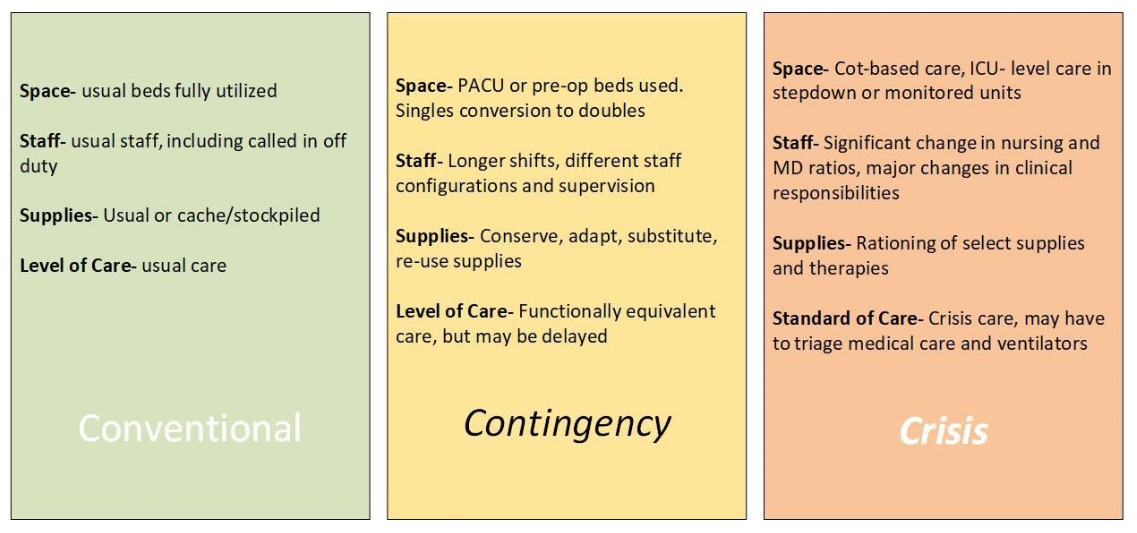 Northern Inyo Healthcare District Incident Command utilizes the crisis care continuum classifications (green/yellow/red) as both a communications and planning tool. The classifications allow us to communicate our status to our local authorities, and in turn, the public. In addition, the Northern Inyo Healthcare District Incident Command reviews current space, staffing, supplies, and level of care on a continual basis, at minimum once a week during Northern Inyo Healthcare District Incident Command meetings to ensure all members of are aware of the hospital's current crisis care continuum stage.
---
Stay At Home Order Lifted Inyo County Remains In Purple Tier
INYO COUNTY, CA, January 25, 2021 - California Department of Public Health announced today that the California Stay at Home Order has been lifted. Inyo County will remain in the Purple Tier of the state's Blueprint for a Safer Economy, indicating that the risk level in this county is widespread.
This change will require certain industries to modify their operations in order to remain open. In order to return to the Red Tier, Inyo's local data must stabilize and consistently reflect positivity and case rates consistent with the Red Tier thresholds for a two week period. It will be essential that we all do our individual part by continuing to use face coverings, staying home when ill, practice physical distancing, avoid gatherings and mixing with other households, and washing our hands frequently.
---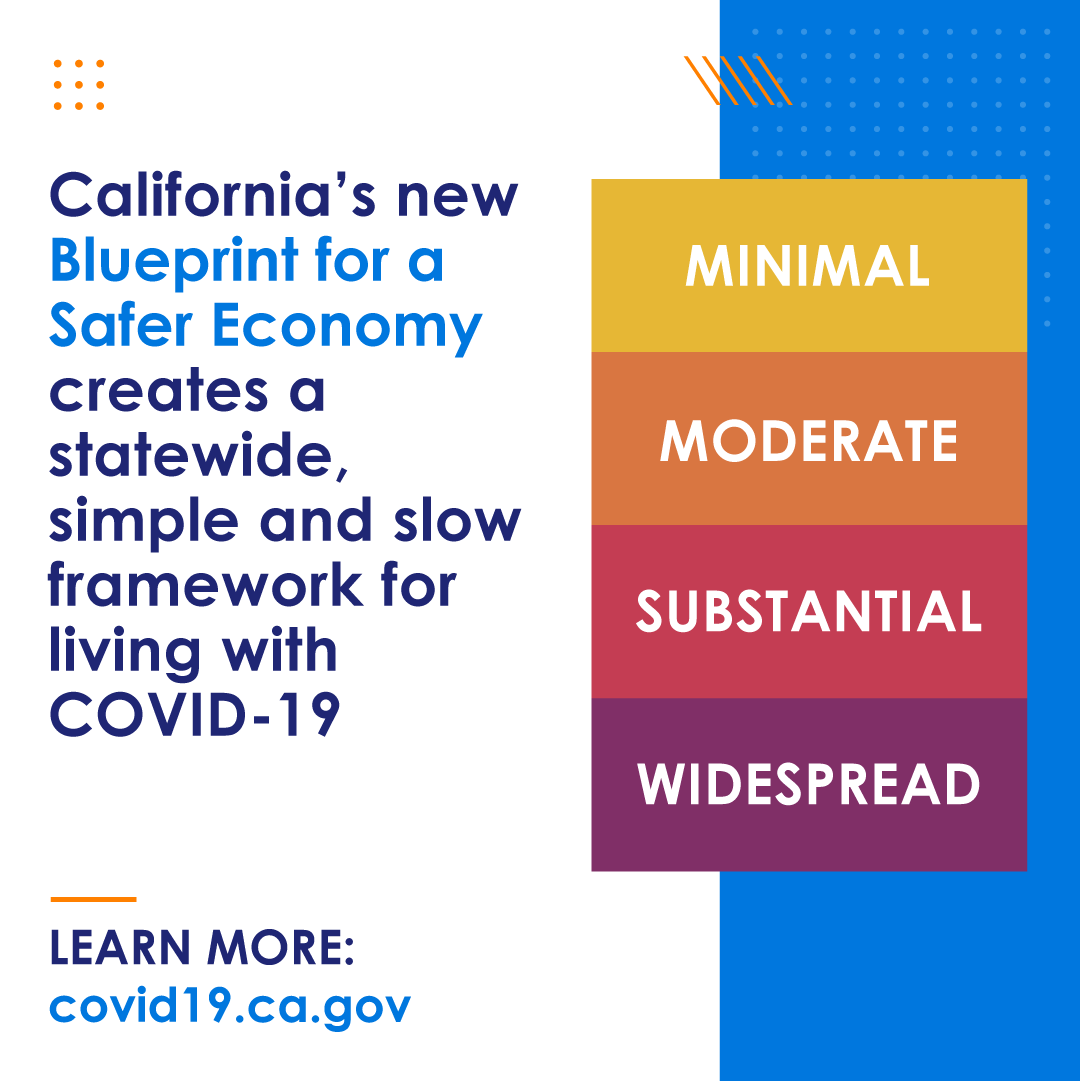 Current Status Level: Widespread
About California's Blueprint for a Safer Economy:
Every county in California is assigned to a tier based on its test positivity and adjusted case rate. At a minimum, counties must remain in a tier for at least 3 weeks before moving forward. Data is reviewed weekly and tiers are updated on Tuesdays. To move forward, a county must meet the next tier's criteria for two consecutive weeks. If a county's metrics worsen for two consecutive weeks, it will be assigned a more restrictive tier. Public health officials are constantly monitoring data and can step in if necessary.
The tiers are defined as follows:

Widespread, Substantial, Moderate, and Minimal
Click here to learn more about the tiers
---
Current COVID-19 Testing Status
Regional Testing Totals as of 2/24/2021 at 5 p.m.
| County | Administered | Pending | Negatives | Positives | Resolved | Deaths | Hospitalizations |
| --- | --- | --- | --- | --- | --- | --- | --- |
| Inyo | 17,143 | 38 | 15,508 | 1,281 | 1,205 | 36 | *80 |
| Mono | 11,137** | 29 | 10,081 | 950** | n/a | 4 | n/a |
Regarding Administered Inyo County: Numbers Includes NIHD, SIHD, Toiyabe and Verily testing sites. Positives tests for those who are not full-time residents in Inyo County are not included in the Positive Case count. Total, pending, and negative test numbers include individuals tested more than once. Cases with pending results are monitored by medical staff ordering test; Inyo County Public Health monitors pending results identified as high probability individuals.
*Total number hospitalized for inpatient services in MedSurg, ICU, RCU, and Perinatal
** As of Nov 24th, the positive cases from the Mono County Mountain Warfare Training Center no longer count against Mono County's total case count.
---
Ages of NIHD & Inyo County Confirmed Cases
| Ages | NIHD | Inyo |
| --- | --- | --- |
| Ages 0-17: | 113 | 188 |
| Ages 18-49: | 281 | 577 |
| Ages 50-64: | 126 | 235 |
| Ages 65 and Up: | 116 | 215 |
| Unreported/Missing | 0 | 66 |
| TOTAL: | 636 | 1,281 |
---
Gender of NIHD & Inyo County Confirmed Cases
| Gender | NIHD | Inyo |
| --- | --- | --- |
| Male | 298 | 579 |
| Female | 338 | 655 |
| Gender ID Missing | 0 | 47 |
| TOTAL: | 636 | 1,281 |